It's a fact that's impossible to ignore: public services are under constant pressure to do more with less. The global pandemic that we experienced in the past 18 months has further exacerbated the situation. This article highlights how a data-led approach can support those individuals who are described as "Vulnerable" or "at risk", often with the most complex needs from front-line services – be that health, social care and police.
So what is the scale of the problem?
In the EU alone, over 110 million people in households are at risk of poverty or social exclusion; 22% of the population. (1) In the UK alone, an aging population, among other factors, is increasing the cost of social care to the point that a funding gap of £18 billion is expected by 2031. (2)
Studies (3) have shown that 85% of victims sought assistance five times from professionals in the year before they received effective help to stop the abuse.
Analysis by the Early Intervention Foundation, identified £17 billion per year – equivalent to £287 per person – is spent in England and Wales by the state on the cost of late intervention. (4)
Who should we target for the highest success rate?
A study by Oxford University has identified 72 types of vulnerability that are used across Government alone.(5)
Most at risk are those likely to experience illness or isolation or be the victims of abuse or crime. The irony is that they're also the people that should be supported most. It's often a lack of early intervention that proliferates the problem here – like the legislation thought to be making the problem worse.(6) Late intervention has a high cost attached to it and leads to poorer outcomes. This keeps the most vulnerable in the same position, with little chance of breaking out of the cycle.
From experience at SAP, we know this scenario can be improved using technology. Which is why we are pioneering a new data-driven approach to make it a reality.
Combining data and technology to create actionable intelligence
It's often the case that money spent on health, social, and economic issues serve simply to keep relevant services afloat and doesn't necessarily deal with the underlying problems or instigate change. The Institute for Government calls this a cycle of cash, crisis, and repeat. (7)
But the data and technology are there to drive reform and improve lives – especially for the vulnerable – so why aren't we using it? Our team is doing exactly that, championing the creation of a data-driven approach that's capable of making real-time decisions and using actionable intelligence to enable better outcomes.
We believe that it's about accelerating the flow of information between public services to enable intervention at the right time. Every relevant recorded interaction that an individual has with any service could be connected in a secure manner. Obviously, technology is essential to achieving this – and it's entirely possible. With automated data matching, predictive analytics, machine learning, and artificial intelligence, this level of collaboration can be achieved, empowering public service bodies to identify risks in real time.
Identifying risk, improving lives
It should be society's mission to improve people's lives and build a better future for everyone. That's always the starting point, and we're leading the way by engaging with public sector organizations to help make it happen – but we're not done yet.
By using technology to identify risks and intervene sooner, the lives of vulnerable people can be improved. The cycle can be broken. And with many public services seemingly at a breaking point, it's essential that we do so.
An integrated platform for vulnerable people can help public services to enforce data-driven reform once and for all, building an environment of shared data and multi-agency collaboration. Helping the government reduce risk and be more cost-efficient, empowering professionals to do higher value work and help those most in need –having a positive impact on our communities and society in general.
Governments are now beginning to realise that data led approaches work. In September 2021, the UK Ministry of Housing, Communities and Local Government (MHCLG) allocated a further £7.9 million to local projects on sharing data to support vulnerable children and families. (8)
Since its launch in 2011, £1.5 billion of funding through the Troubled Families Programme has helped families and local areas to achieve a huge amount. The programme supported over 400,000 families to achieve positive outcomes between 2015-2021. Each one of these outcomes means a family's life changed for the better, whether it has meant improving a child's school attendance, so they get the best start in life, supporting a parent to overcome their substance misuse and keep their family together, or helping victims of domestic abuse so they can build a more positive future for themselves and their family. £165m of additional funding for the programme was announced at the 2020 Spending Review.
Making positive change
A lot of data is available to public services about families and households in their area. But, as we know, much of it is either inaccessible, hard to see in context with other sets, or difficult to analyse. And that's what needs to change.
By fusing and combining data sets from multiple sources, it's possible to build a single view of an individual or family, with rules applied that can generate early alerts – leading to improvement further down the line.
Our work begins with that data-driven view, enabling early identification, real-time insight, and positive intervention. The only significant challenge is how many organisations have – or rather, haven't – invested in this kind of data-driven solution.
Public services have been slower off the mark to commit large efforts into the use of data as a strategic enabler. And others don't see an easy start point or clear approach. Both things go against the idea of having a data-driven government.
Fortunately, many know they have a problem. They just need to get on to solving it.
Early warning signals from connected data
Intelligent platforms have the potential to transform how communities understand and head off problems. Connected data between disparate systems helps social care agencies take more significant action, but historically this has been difficult to achieve . In the UK SAVVI are developing a Scalable Approach to Vulnerability via Interoperability.(9) SAP are part of the working group.
Public Services need to identify vulnerable people and households, and then lead a multi-agency, and community response to assessing needs and providing support and interventions. This has involved blending attributes from data sourced from many local and national organisations. Datasets containing vulnerability attributes need to be discovered and shared; attributes are hard to extract from many datasets due to inconsistent semantics, quality, and governance; matching datasets is imprecise due to inconsistent use of identifiers and lack of biographic standards; action tracking in real-time across many agencies requires a secure standards-based ecosystem, rather than shared product.
Prevention beats cure
As with many societal issues, intervention at the right moment is far more effective than trying to deal with the consequences of a problem once it's happened. If local public services organizations can spot issues or patterns, they can make the move to resolve them and prevent compounding issues. But without the ability to accurately identify potentially at-risk families, getting the program resources to make a difference is going to be extremely hard work.
Aggregating disparate, disconnected, and often manual systems onto one platform that intelligently analyzes relevant data can help overburdened local public services to do more with less. Intelligent technology can save time and costs.
Bringing this to life: Case Study – a small European City
Population of around 250,000, highest growth is over 65's cohort
45% of this Local Governments spend is on Care & Support
In just one month, the pilot helped identify an additional 22,000 at-risk families, and increase the potential to access further funding resources by over 140 percent.
Running on SAP HANA with SAP Analytics Cloud, the PoC captures and analyzes data from local organizations such as councils, schools, police, welfare, and hospitals to spot families in distress from problems such as domestic violence, employment issues, anti-social behavior, poverty, substance abuse and truancy.
Become a data-driven public sector organisation (sap.com)
Other Use Cases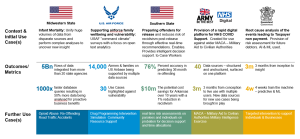 Jim White, Regional Industry Leader, Public Services, SAP EMEA North
Corinne Marsolier, Regional Industry Leader, Healthcare, SAP EMEA North
Resources: